Why Does My Phone Keep Dropping Calls, and How Do I Fix It?
How to Stop Your Phone from Dropping Calls for Good
With how much we rely on our phones daily, dropped calls are a major inconvenience. They can occur at any moment. While catching up with a friend, closing a business deal, or during an emergency. It doesn't matter if you're using your cellular network or WiFi, calls still drop. However, there are ways to eliminate or significantly reduce them.
We fix poor cell phone signal! Find the right signal booster for you:

For Home

For Vehicle

For Business

For Commercial
What is a Dropped Call?
Simply put, a dropped call refers to a phone call abruptly ending. They occur when one person's phone randomly disconnects from the network be it cellular or WiFi.
What Causes Dropped Calls?
The main reason for dropped calls is usually weak signal. Many people blame their cellular provider or ISP. Oftentimes, however, it's not their fault. Common reasons cell signals suddenly go bad include:
Signal Blocking Obstacles
Anything sitting between your cell phone and the signal source weakens received signal, leading to dropped calls. Such obstructions include trees, mountains, tall structures, building materials, and the like. WiFi signals are mainly disrupted by interior walls and furniture.
Distance from Signal Source
Radio waves can only travel so far from the signal source. Whether a cell tower or a WiFi router, the further away your device is, the weaker the signal it receives for uninterrupted calls.
Sources say cell towers have a range of up to 40 km, but it heavily varies by tower. On average wireless routers have a range of about 45 m. With obstacles, that distance significantly decreases.
While you may already know where your router is located, your nearest cell tower's location may not be such common knowledge. There are multiple cell tower locator apps and sites you can use to find the tower closest to you. Examples include CellMapper.com, Canadian Cellular Towers, Network Cell Info Lite, and the weBoost app.
For more info, here's how to find your nearest cell tower.
Network Congestion
Signal sources have limited capacity. Multiple devices connected to a single cell tower or router at the same time overload the network. Calls inevitably drop, and data speeds slow down to a crawl for all.
How to Fix Dropped Calls When Using Your Cellular Network
There are various tricks you can try to boost cell signal and stop dropped calls. The following tips work for iPhones, Samsungs, and any other smartphone devices.
Inspect Your SIM Card
SIM cards grant you access to your carrier's cellular network. When using a damaged SIM card, your cellular connection can randomly falter, causing you to constantly drop calls.
Shut off your phone and remove your SIM card. Carefully inspect it for bends or cracks. To replace it, you'll have to get in contact with your service provider.
If no damage is detected, reinsert the SIM and make a phone call to test if the problem is fixed. Turning off your device and removing the SIM can oftentimes reset your connection and fix the issue.
Toggle Airplane Mode
Just because you're not flying doesn't mean you can't use airplane mode to your advantage. Like removing the SIM card, airplane mode can help get your calls working again by refreshing your connection with the nearest cell tower.
For iPhone:
Settings → Airplane Mode → On
For Samsung or Android:
Settings → Connections → Airplane Mode → On
Reset Network Settings
When restarting your phone or toggling airplane mode isn't enough, the next best thing is to reset your network settings. This will erase all traces of previous WiFi, Bluetooth, and cellular connections. It can help get rid of any underlying issues that may be causing your phone to drop calls.
For iPhone:
Settings → General → Reset → Reset Network Settings
For Samsung or Android:
Settings → General Management → Reset → Reset Network Settings
Install Latest Updates
You might be dropping calls because your phone is working under older software. Software updates are released to fix bugs on your phone. Those bugs can interfere with your phone's functionalities, resulting in dropped calls.
For iPhone:
Settings → General → Software Update → Install (if a pop-up comes up)
For Samsung or Android:
Settings → Software Updates (located towards the bottom) → Check for Updates → Install (if a pop up comes up)
Close Background Apps
With how much we use our phones, it's easy to leave tons of apps running in the background. If your cache memory is full, it could be the reason you're dropping calls. Thus, close out any unnecessary apps and see if that fixes your dropped calls.
For iPhone:
Open App Switcher by swiping up from the bottom of the screen and pausing in the middle of the screen.
Swipe left or right to find the apps you want to close.
Swipe up on unnecessary apps to close them.
For Samsung or Android:
If using swipe navigation, open the recent app menu by swiping up from the bottom of the screen and pause. If using button navigation, tap the button with the three vertical lines.
You have the option to either close all apps at once or individual ones.
Depending on your Android, swipe up, down, left, or right on your app of choice to close it.
Make Sure Caller ID is Visible (for iPhone)
Hiding your caller ID can sometimes affect incoming calls. When answering calls, it can even cause them to unexpectedly drop. If your Caller ID visibility is off, turn it on and see if that helps maintain your calls.
For iPhone:
Settings → Phone → Show My Caller ID → Toggle Show My Caller ID On
Remove Your Phone Case
Some phone cases, especially those with metal, can block or diminish the signal reaching your phone's internal antenna. Removing it may improve your overall reception and call quality.
Check Date and Time Settings
Strangely enough, the wrong date and time settings can affect your phone's ability to receive and maintain calls. If incorrect, set your date and time settings to automatic.
For iPhone:
Settings → General → Date & Time → Toggle Set Automatically On
For Samsung or Android:
Settings → General Management → Date and Time → Toggle Automatic Date and Time On
Change Your Location & Mitigate Obstacles
If your calls are dropping because of unreliable cell service, move to an area where you receive the strongest signal. It could be outside, near a window, or your second floor. This can also help mitigate the number of obstructions sitting between your devices and closest cell tower.
Here is a complete guide on how to measure cell phone signal strength.
How to Fix Dropped Calls When Using WiFi Calling
Seeing as >WiFi calling requires wireless internet connectivity, the troubleshooting tips below will be WiFi network focused.
Move Closer to Your Router
Your cell phone may be at the edge of your router's coverage range, preventing you from maintaining a stable WiFi calling connection. Moving closer to your router may help eliminate dropped calls over WiFi.
Move Your Router
Remember, obstacles reduce coverage and signal strength. Rather than hiding your route behind a couch or inside a cabinet, move it to an open area. Having better WiFi signal can help you maintain WiFi calls.
Reboot Router
Internet connectivity issues can arise randomly, decreasing your router's performance. Inevitably, this will affect call reliability. Restarting your router can help fix many issues, including WiFi calling connectivity.
Reset Your WiFi Connection
Sometimes your phone's WiFi connection can become wonky. Simply disconnecting from your WiFi and reconnecting can help you get the connection you need for reliable WiFi calls.
For iPhone:
Settings → WiFi → Toggle WiFi Connection Off and On
For Samsung or Android:
Settings → Connections → Toggle WiFi Connection Off and On
If that doesn't work, reset your network settings and reconnect to your WiFi network.
For iPhone:
Settings → Reset → Reset Network Settings
For Samsung or Android:
Settings → General Management → Reset → Reset Network Settings
Check Internet Connection
Make sure your internet connection and speeds are solid enough to handle WiFi calls. An unavailable network or slow speeds may be the reason your calls drop. To fix it, you'll have to reboot your router or call your internet service provider.
Best Solution for Dropped Calls
The best way to permanently eliminate dropped calls is by investing in a cell phone signal booster.
A signal booster is a device that takes existing 5G, 4G, and LTE signals, amplifies them, and rebroadcasts them into your home, office, or vehicle. They're able to:
Bypass building material
Reach distant towers
Fine-tune your connection to the tower for a more consistent signal
If you rely on WiFi calling, your in-building cell reception is likely subpar. A signal booster will improve your cell signal AND offload congestion from your WiFi network. Talk about two birds with one stone!
What's more, signal boosters are compatible with all cellular devices from any service provider. You don't need WiFi or any type of broadband connection for the signal booster to work, and there are no monthly fees associated with them.
Here are our top signal booster recommendations to help rid your life of dropped calls:
Best Signal Boosters for Home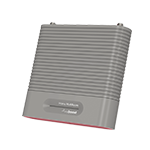 Up to 465 Sq M Coverage
Up to +65 dB Gain
Up to 21 dBm Uplink and 12 dBm Downlink
Compatible with All Cellular Devices and Carriers
Customizable for Any Situation
Aesthetic Design
The weBoost Home MultiRoom is our most popular booster and perfect for most homes. With high gain and uplink, it can reach distant towers to deliver stronger in-building signal and eliminate dropped calls. Perfect for people in the city and the countryside.
Under perfect conditions, it's capable of covering up to 465 sq m. Depending on your outside signal, that's enough for multiroom to whole home coverage. Most people get between 185 – 279 sq m of coverage. Areas with extremely poor cellular reception can expect much less.
For those extreme cases, this is the least powerful unit you should consider if trying to fix dropped calls.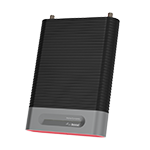 Up to 697 Sq M Coverage
Up to +72 dB Gain
Up to 24 dBm Uplink and 12 dBm Downlink
Compatible with All Cellular Devices and Carriers
Customizable for Any Situation
Aesthetic Design
The weBoost Home Complete is the most powerful home booster you can get to eliminate dropped calls. It's capable of providing whole-home coverage for a large home with strong outside signal or a midsize home with weak outside signal.
Featuring max gain of +72 dB, the highest of any multi-carrier home unit, it's roughly a shade over 3x more powerful than the weBoost Home MultiRoom. And with its powerful output powers, it can reach towers located even further to deliver superior service indoors. Under perfect conditions, it can provide up to 697 sq m of coverage.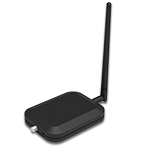 Up to 186 Sq M Coverage
Up to +60 dB Gain
Up to 23 dBm Uplink and 13 dBm Downlink
Compatible with All Cellular Devices and Carriers
Compact Design, Fits On Any Flat Surface
The weBoost Home Studio is the most affordable home signal booster. Perfect for people trying to eliminate dropped calls on a budget.
This small compact booster can enhance cellular signal in areas up to 186 sq m under perfect conditions. It's ideal for a small home, apartment, dorm, or condo. Those with weak outside signal may get around 18-46 sq m of coverage, enough to cover one large room.
It's a great starter kit if you have decent outside signal but constantly drop calls in the rooms where it matters. For those poor signal areas, consider the Home MultiRoom since you may not see the results you want with this unit.
Best Signal Booster For Vehicles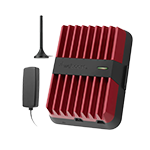 Up to +50 dB Gain
Up to 26 dBm Uplink and 4 dBm Downlink
Eliminates Dropped Calls On-the-Go
Compatible with All Cellular Devices and Carriers
Works in Extremely Rural and Remote Areas
Extremely Customizable for Any Application
The weBoost Drive Reach is the most powerful vehicle cellular booster. It's the booster we highly recommend for those trying to eliminate drop calls on the go.
It features the highest uplink output power of any multi-carrier vehicle amplifier. This allows it to reach cell towers that are 2x further to deliver twice the signal strength. It's much more powerful than its competitors and a great performer in the most rural of roads and highways. Very customizable, there is a Drive Reach for cars, trucks, boats, overlanders, semis, and RVs.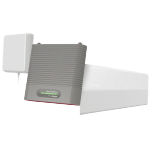 Up to +65 dB of Gain
Up to 25 dBm Uplink and 12 dBm Downlink
For Stationary Use ONLY
Works in Extremely Rural and Remote Areas
Compatible with All Cellular Devices and Carriers
The weBoost Destination RV is the most powerful booster for stationary RVs, trailers, and campers. It uses the popular Home MultiRoom amplifier and top-of-the-line RV antennas. When compared to other mobile signal boosters, the Destination RV offers an additional +15 dB of gain. This means it will significantly reduce dropped calls, even in rural areas with limited coverage. The included 25' telescoping mast makes setting up and taking down the unit easy and painless.
Wilson Amplifiers Can Help You Eliminate Dropped Calls for Good
Wilson Amplifiers is a leading provider of cell phone signal amplifiers. Regardless of your carrier, our units will get you the speed and reception you need to stay connected. Available for buildings and vehicles, there is a signal booster for every situation. Professional installation services are also available for commercial applications.
If you have any questions, call (1-800-373-2927), email (sales@wilsonamplifiers.ca), or chat with us. We're happy to help!
THE WILSON AMPLIFIERS ADVANTAGE
FREE SHIPPING to Ontario & Quebec*
30-DAY
Money Back Guarantee
LIFETIME
Technical Support