Cell Phone Signal Boosters for Cabins & Cottages: Get Better Reception
Hello from the country side. I've dropped my call a thousand times.
This is life isn't it?
Summer air, off-the-grid, surrounded by the comfort and quiet in your cabin or mountain cottage. It's a type of subtle healing only Mother Nature provides.
But, as they say, every rose has its thorns.
While some people like to get away from it all, others still need to be connected. Living in a remote, rural area also means having limited cell phone reception.
And when you need to be connected, dropped calls, poor internet speeds, and limited service isn't the part of the package of the ultimate convenience.
But there are some solutions
1. Wifi Calling
If your cabin has landline internet connection, your phone may be able to use a feature called Wi-Fi calling. Meaning it uses your broadband landline wifi to make calls instead of using cellular 3G & 4G LTE signals.
Learn more about wi-fi calling for the following major carriers:
Rogers(supports Apple, Samsung, and LG phones)
Bell (supports older & newer Apple iPhone models)
Telus (supports newer Apple iPhone models)
If you don't have landline internet, then this can't be an option.
2. Your Carrier Builds a New Tower Near You
Carriers are always building new cell towers or small cells; however, most are built where the customers are active. So unless you live in an active community with hundreds of paid subscribers, this is a unlikely scenario for people in rural areas.
3. Cell Phone Signal Booster
The best option of the bunch. Why?
Cell phone boosters (aka cell phone repeaters) are all-carrier approved devices that boost weak 2G, 3G, and 4G LTE cellular signals.
If you have any type of weak outside signal, a cell phone signal booster potentially can deliver more bars, more coverage, better talk & text, and faster internet & data.
This is how a cell phone booster works in 3 easy steps:
The Outside Antenna pulls in weak signal surrounding your property.
The Amplifier boosts the signal multiple times up to 32X.
The Inside Antenna rebroadcasts the enhanced signal inside your cabin.
So yes, it absolutely works*
?
Hey, what's with the *?
What a Signal Booster Can & Can't Do
First, the GOOD points about a signal booster:
Boosts 2G, 3G, 4G LTE signals.
Works for ALL carriers (Bell, Rogers, Telus, Freedom Mobile, etc)
Works for ALL cellular devices (cell phones, smartphones, tablets, etc.)
Complete easy-to-install kits
One-time purchase, no monthly fees or recurring fees
Set-&-forget-it devices, automatically adjusts for maximum signal boost
2-year manufacturer's warranty (anything goes wrong, you get a new one)
30-day better signal or money back guarantee
Now, the BAD points about a cell booster:
Does not boost landline broadband wi-fi internet.
Does not create cellular signal. There must be some signal for it to boost.
Needs "enough" weak signal in order to provide decent signal amplification.
MAIN TAKEAWAY: A cell phone signal booster for your cabin & cottage only works (and works well) if you have enough working signal!
So how much is "enough" working signal? 1 bar? 2 bars? 3 bars?
Field Test Mode: The best way to read signal
The number of bars on your phone?
Completely subjective.
Yes.
Completely, completely subjective!
There is no industry standard for the number of bars on your phone and signal strength.
In other words, what's 1 bar on Telus might be 2 bars on Bell, 3 bars on Rogers and full bars on Freedom, DESPITE receiving the same signal and performing at the same speeds.
It's up to the carrier to define what they think is 1, 2, 3, 4, and full bars on their own networks.
That's why you need to use Field Test Mode. It's available on most cell phones. But what is it?
Cell phone signals are basically radio waves (the AM/FM kind). They operate within a certain standard: -50 dB to -120 dB. dB stands for decibels.
-50 dB is basically full bars. -120 dB is a dead zone.
This signal level is true for all cellular devices and for all carriers.
So how do you access Field Test Mode?
For Apple devices
Go into Phone or Call mode.
Dial exactly: *3001#12345#* [Don't forget to dial the *!]
Press call.
You'll enter Field Test Mode.
Swipe your Notifications Bar down from the top of the screen.
You'll see your dB reading on the upper-left-hand side of the screen.
For Android devices
Access the Settings option on your phone.
Then choose General.
Then choose About Phone.
Then choose Network or Status depending on your model
You'll see your dB reading.
For Blackberry devices
Access the Options setting on your phone.
Then select Device.
Then select Device Status.
Then select Network Info.
You'll see your dB reading.
Once you have access to dB readings, walk around the outside of your cabin or cottage. dB readings take a few seconds to refresh, so make sure to walk slowly.
Now find out which area of your house is closest to -50 db.
So what are your results?
And how can a signal booster help you?
If your outside signal ranges from:
-50 to -89 dB: A signal booster will produce very good signal boost inside your cabin (3 to 5 bars).
-90 to -99 dB: A signal booster will produce good to average boost (2 to 4 bars).
-100 to -114 dB: A signal booster will produce average to small boost (1 to 2 bars).
Recommended cell phone boosters
weBoost Home MultiRoom (650144)
Pros:
Boosts talk, text, internet, 3G & 4G LTE data.
Works for all phones & all carriers.
Coverage range: 1,000 to 5,000 sq ft / 92 to 465 sq m depending on signal.
Most popular model.
Cons:
Depending on your outside signal, you may need a stronger model to pull in and boost your signal.
We say for 80-90% of our customers living in the countryside, the weBoost Home MultiRoom is the perfect fit. When surrounded by mountains, pine trees, and valleys, your signal will most likely be very weak.
And especially if your cabin or cottage has a metal roof or siding or built with thick concrete, then the Home MultiRoom does a very good job of bypassing all that interference.
If you've done a dB reading (listed above), we'd say anything from -50 to -95 dB and you'll see noticeable improvements and whole coverage for your cabin.
From -95 to -109 dB, you might see good enough improvements (1-2 bars) and coverage ranging from 1 room to most of the cabin.
At over, -110 dB, we wouldn't recommend it. Even with a boost, you'd most likely be near the inside antenna (about inches) to get proper signal boost.
Our customer feedback puts it around 2,000 to 3,000 sq ft / 186 to 279 sq m on average.
Still, for 80% of people deep in the woods or mountains, we recommend this model first.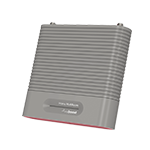 weBoost Home Complete (650145)
Pros:
Boosts talk, text, internet, 3G & 4G LTE data.
Works for all phones & all carriers.
Coverage range: 2,000 to 7,500 sq ft / 186 to 696 sq m depending on signal.
Most powerful model.
Cons:
Expensive. But if your signal is extremely poor, this might be your only option.
This is essentially the bigger brother of the Connect 4G. For customers with very, very bad signal like one leg on the banana peel, then it's our next recommended option.
If your outside dB reading is at -50 to -95 db, you'll see near full bars and coverage from 4,000 to 7,500 sq ft / 371 to 696 sq m.
At -96 to -109 dB, 2-4 bars with coverage ranging from 2,000 to 4,000 sq ft / 186 to 371 sq m.
At over, -110 dB, 1-2 bars with coverage from 1 room to several rooms (250 to 1,500 sq ft / 23 to 139 sq m).
Our customer feedback puts it around 4,500 to 5,500 sq ft / 418 to 511 sq m on average.
Pricing is a concern here especially for just a single cabin especially if it's a small one. But for a lodge or multiple neighboring cabins, especially if you have decent outside signal, its quite the lifesaver.
And if you have near no-service, then this is the best choice.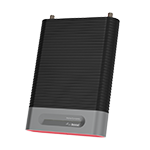 weBoost Destination RV (650159)
Pros:
Boosts talk, text, internet, 3G & 4G LTE data.
Works for all phones & all carriers.
Powerful RV unit
Cons:
Limited coverage area, not intended for extremely weak signal areas.
An RV unit? What's happening here?
Well, we have quite a few cabin owners who spend a few months on the road and want something that can do double-duty for the cabin and the RV.
The weBoost Destination RV is essentially an entry-level home unit that has been retrofitted for RV use. The RV has to be stationary to for the unit to work. Depending on your RV installation, you should be able to easily uninstall and move the unit inside your cottage for use.
FAIR WARNING: If you have extremely poor to mediocre signal, you may not see much of a boost if you choose to use this inside your cabin. Even with below average to good enough signal, coverage ranges from desktop area to at best 500 to 1,000 sq ft / 46 to 93 sq m if your current outside signal is very, very good.
So, if you're considering the RG 4G because of its double-duty nature, please note there is a trade-off of power and coverage area compare to the two other boosters.
But if you own an RV and have a small cabin and your current outside signal isn't too bad, then we'd say nothing wrong with double-dipping.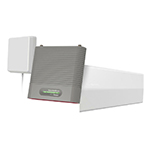 How May We Help You?
Wilson Amplifiers is the leading provider of cell phone signal boosters. Cell phone boosters amplify 5G, 4G, LTE, and more for any phone with any carrier for home, office, or vehicle.
We seriously hate dropped calls and poor coverage, so it's our goal in life to rid the world of spotty signal, one happy customer at a time:
Free consultation (ask us anything) with our US-based customer support (sales@wilsonamplifiers.a) or call us at 1-800-373-2927.
Free shipping to Ontario & Quebec for orders over $49.99.
Better signal or your money back within 30 days.
We want everyone to be satisfied, so we provide lifetime technical support and a 2-year warranty for all products.
Ask us anything and we'll be glad to help.
Signal Expert
THE WILSON AMPLIFIERS ADVANTAGE
FREE SHIPPING to Ontario & Quebec*
30-DAY
Money Back Guarantee
LIFETIME
Technical Support