Best iPhone Signal Boosters
iPhone Signal Boosters
Our Top Tested iPhone Signal Boosters
We fix poor cell phone signal! Find the right signal booster for you:

For Home

For Vehicle

For Business

For Commercial
Nothing is more frustrating than your iPhone dropping calls, failing to send texts, or taking ages to load. The same applies to cellular-enabled iPads. If you're looking to improve your iPhone or iPad's cellular signal for work or play, you've come to the right place. There is no better way to do so than with an iPhone signal booster.
Many factors contribute to unreliable iPhone connectivity. iPhone signal boosters take your existing weak 5G/4G signals, boost their power, and deliver them directly to your Apple devices. No matter where you are, if there is a sliver of signal from your carrier, your iPhone or iPad will never struggle to stay connected. Read on for more information on iPhone signal boosting tips, tricks, and FAQs.
Why Does My iPhone Have Poor Cell Phone Signal?
Cell phone signals are radio waves, the AM/FM kind. Like all radio waves, they are easily disrupted by anything and everything. Common iPhone signal disrupters include:
Heavy Cellular Traffic – Cell towers have limited capacity. Congestion slows down your iPhone's data speeds to a crawl and causes calls to drop.
Cell Tower Distance – Cell signal can only travel so far. The farther away your iPhone is from your carrier's cell tower, the weaker the signal it receives.
Building Material – Metal, concrete, brick, low-e glass, and other materials interfere with cell signals reaching your home, building, or vehicle. Thus, iPhone connectivity may suffer while indoors.
Natural Barriers – Trees, hills, mountains, and valleys degrade signal strength and quality. Available signal may be below average, resulting in poor iPhone performance.
Weather – Rain, humidity, lightning, and the like affect cell signal. During inclement weather, you may notice a decrease in iPhone reception.
How to IMPROVE iPhone Cell Phone Signal?
There are a few things to try:
Toggle Airplane Mode
WiFi Calling
Update Your iPhones iOS and Carrier Settings
Remove Your iPhone Case
Switch to 4G Only
Change Carriers
Upgrade Your iPhone
The #1 solution that has proven to constantly work is a signal booster for iPhones. They significantly mitigate iPhone connectivity issues for the iPhone 14, iPhone 13, iPhone 12...all the way back to the iPhone 4. The:
Outdoor antenna communicates with distant cell towers and fine-tunes received signal.
Coax cables help bypass troublesome building materials.
Amplifier significantly boosts the signal.
Indoor antenna(s) broadcast the boosted signal wherever you need it.
See here for a full breakdown of how signal boosters work.
What About 5G? Can iPhone Signal Boosters Boost iPhone 5G Signals?
Yes, but not the "good parts" of 5G. At least for now.
Most boosters on the market only boost 4G and LTE signals. However, there are some low-band 5G frequencies from certain carriers that operate on 4G spectrum. Signal boosters will boost those 5G signals. Performance will likely be similar to that of 4G.
Mid- and high-band 5G, frequencies ranging from 1 GHz to 39 GHz, are the "good parts" of 5G. Signal boosters are not equipped to handle those frequencies yet.
Can the *3370# Code Boost My iPhone Signal?
*3370# or #3370# is supposedly a code iPhone users can dial to boost their cell phone reception. Unfortunately, it doesn't work. It's actually a number sequence used to activate Enhanced Full Rate Codec, which improved sound quality for specific devices. The best way to boost your iPhone's signal is with a cellular booster.
Do iPhone Signal Boosters Work?
iPhone signal boosters work anywhere cell signal is available, even if it's only a sliver. They'll enhance existing cell signal for your home, business, or vehicle from any carrier, not create it. All cellular devices within the booster's coverage footprint will receive a significant signal boost. That includes:
iPhone 14s
iPhone 13s
iPhone 12s
iPhone 11s
iPhone Xs
iPhone 8s
iPhone 7s
iPhone 6s
iPhone 5s
iPhone 4s
Cellular iPads
Cellular Apple Watches
Even Android Devices!
No more dropped calls, undelivered messages, or snail-like data speeds. Here is a short video proving cell phone boosters work:
As you can see, our customer's cellular reception significantly increased with the weBoost Home Complete. Signal strength improved from -119 dBm to -75 dBm. Generally, signal strength ranges from -50 dBm (perfect signal) to -120 dBm (no signal). The close you are to -50 dBm, the more reliable your connection. To learn how to measure your cell phone signal strength, visit our guide.
Do iPhone Cellular Amplifiers Work with iPads?
iPhone signal boosters are not designed for just phones. They work with any device that has 5G, 4G, and LTE capabilities. That includes cellular enabled iPad Pros, iPad Airs, iPad Minis, and all iPad Generations that work with 5G/4G.
You'll know your iPad has cellular capabilities if it takes a SIM card. If your iPad has an active data plan, cellular boosters will help keep your data running smoothly whenever you're away from WiFi. Signal boosters do not improve WiFi connectivity, though.
If you struggle with poor WiFi for your iPad, a cellular router can help you get a better connection anywhere you go. When paired with a signal booster, your connectivity experience increases.
Where Can I Use an iPhone Signal Booster?
We offer a wide selection of cellular amplifiers, each tailored for different applications. They can be used in homes, cabins, offices, RVs, boats, cars, and commercial spaces. Whether urban, suburban, or rural, signal boosters keep iPhones and iPads connected almost anywhere.
What iPhone Signal Booster Should I Get?
There are a few questions you should ask yourself to find the best signal booster for your needs:
What type of iPhone booster do I need? Home or vehicle? Maybe both?
If for home, what is your desired coverage area? Are you looking to cover only one room, two rooms, or the whole house?
If for vehicle, what type of vehicle do you have? Car, truck, semi, RV, or camper?
Here are some recommendations to help you make the best decision:
iPhone Signal Booster Recommendations for Home
Multiple Room Coverage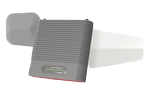 5G Ready
Up to 465 Sq M
Up to +65 dB of Gain
Up to 21 dBm Uplink and 12 dBm Downlink
Compatible with all Apple Devices and Canadian Carriers
The weBoost Home MultiRoom is the most popular iPhone signal booster and perfect for most homes. It offers incredible signal amplification and great reach to distant cell towers. This makes it a good option for people in the city or the countryside.
Under perfect conditions, it can boost cell service for multiple iPhones across any carrier in areas up to 465 sq m. Coverage will vary depending on your signal situation. In areas where your iPhone receives next to no signal, don't go for a less powerful unit than the Home Multiroom.
Whole-Home Coverage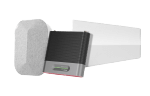 5G Ready
Up to 697 Sq M
Up to +72 dB of Gain
Up to 24 dBm Uplink and 12 dBm Downlink
Compatible with all Apple Devices and Canadian Carriers
The weBoost Home Complete is the most powerful home booster you can get to improve your iPhone or iPad's cellular connection.
It features maximum gain of +72 dB, making it roughly a shade over 3x more powerful than the weBoost Home MultiRoom. And with its powerful uplink and downlink outputs, the Home Complete can reach far-distanced towers to deliver superior service in homes up to 697 sq m. It's capable of providing whole-home coverage for a large home with strong outside signal or a midsize home with weak outside signal.
Single Room Coverage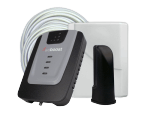 5G Ready
Up to 139 Sq M
Up to +60 dB of Gain
Up to 24 dBm Uplink and 12 dBm Downlink
Compatible with all Apple Devices and Canadian Carriers
The weBoost Home Room is our most affordable home signal booster. It's a great option for people on a budget who only need to improve iPhone reception in small areas. Offering max coverage up to 139 sq m, it's ideal for a small home, apartment, dorm, or condo.
Great starter kit for those who have decent outside signal but struggle with a reliable connection in the rooms where it matters. However, if you live in a weak signal area, you won't see the results you want with the Home Room and should consider the weBoost Home MultiRoom.
iPhone Signal Booster Recommendations for Vehicles
On-the-Go Applications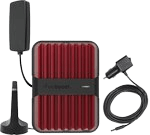 5G Ready
Up to +50 dB of Gain
Up to 26 dBm Uplink and 4 dBm Downlink
Extremely Customizable for Any Application
Compatible with all Apple Devices and Canadian Carriers
The weBoost Drive Reach is our most powerful vehicle signal amplifier. It features the highest uplink output power of any multi-carrier vehicle amplifier. This allows it to reach cell towers that are 2x further to deliver twice the signal strength. It's much more powerful than its competitors and a great performer in the most rural of roads and highways. Thus, it's the iPhone booster we highly recommend for most mobile situations. Very customizable, there is a Drive Reach for all vehicle types.
Stationary Applications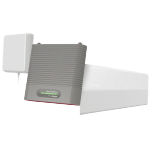 5G Ready
For Stationary Use ONLY
Up to +65 dB of Gain
Up to 25 dBm Uplink and 12 dBm Downlink
Compatible with all Apple Devices and Carriers
The weBoost Destination RV is the most powerful booster for stationary RVs, trailers, and campers. It uses the popular weBoost Home MultiRoom amplifier and top-of-the-line RV antennas. When compared to other mobile signal boosters, the Destination RV offers an additional +15 dB of gain. This means it will greatly improve your iPhone's signal at any campsite, even in rural areas with limited coverage. The included 25' telescoping mast makes setting up and taking down the unit easy and painless.
iPhone Signal Booster Recommendations for Businesses
Whole Workplace Coverage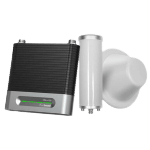 5G Ready
Up to 2,322 Sq M
Up to +72 dB of Gain
Up to 25 dBm Uplink and 13 dBm Downlink
Compatible with all Apple Devices and Carriers
The weBoost Office 100 is our best-selling commercial-grade iPhone amplifier for small businesses anywhere. It's also a great option for large homes in remote areas where a residential booster may not be powerful enough to deliver desired results. High gain and output power ensure all iPhones receive superior signal throughout. Under perfect conditions, this iPhone repeater can cover up to 2,322 sq m. Multiple variants are available to fit different building layouts and signal environments.
For more power and coverage, consider the weBoost Office 200.
Wilson Amplifiers Can Help You Boost Your iPhone Signal
Wilson Amplifiers is a leading provider of cell phone signal amplifiers for Apple devices. Regardless of your carrier, our units will get you the speed and reception you need to stay connected. Available for boats, buildings, and vehicles, there is a signal booster for every situation.
If you have any questions, call (1-800-373-2927), email (sales@wilsonamplifiers.ca), or chat with us. We're happy to help!
THE WILSON AMPLIFIERS ADVANTAGE
FREE SHIPPING to Ontario & Quebec*
30-DAY
Money Back Guarantee
LIFETIME
Technical Support