7 Best Bell Cell Phone Signal Boosters for Home, Office, and Car
Bell is the biggest wireless carrier in Canada, which should mean they provide great coverage.
However, you'll only get strong 3G and 4G LTE if (and a big if) you're getting very good signal from the cell tower.
But if you're reading this article, then most likely, you're looking to boost your poor cell signal.
The Problem:
First, let's explain why you're getting low bars and poor reception.
Cell phone signals are radio waves that span great distances but are interrupted by almost everything under the sun:
Cell tower distance
Outside interference: Trees, hills, mountains, valleys, and tall structures like buildings and urban crowding.
Building material: Metal, glass, concrete, brick, radiant barrier, and other conductive material (electrical or magnetic).
Internal building obstructions: Thick walls, other electrical devices, clutter etc.
Even weather (yup).
By the time the signal reaches to your cell phone, it's weak and erratic leading to limited coverage and spotty reception. You'll raise your phone in the air hoping the antenna will pick up something, hanging on to that one bar of 3G or 4G if you're lucky.
The Solution:
Everything changes with a Bell Signal Booster.
A Bell Signal Booster takes existing weak signal, amplifies it up to 32X , and then broadcasts the boosted signal to an area in need: either your home or car.
This means stronger signal and more bars:
Better coverage: no need to be at a particular spot or do yoga poses to get signal.
Reliable reception: no more dropped calls, repeating conversation, or static-sounding voices
Consistent service: faster internet, uploads, and downloads.
Works for all phones & cellular devices.
Complete kits, easy to install.
No monthly fees, no need to connect to wifi.
Works for all Bell MVNO and subsidiaries (PCMobile, Solo, Northerntel, etc)
Future proof: Also boosts signal for Bell, Telus, Freedom, and other major carriers.
We fix poor cell phone signal! Find the right signal booster for you:

For Home

For Vehicle

For Business

For Commercial
For homes, whether you're in a remote rural area with an off-the-grid cabin or cottage or the big city with difficult-to-get-signal buildings, our recommended cell phone boosters get the job done. They'll extend your Bell network signal with low-cost options for 1-2 rooms up to 700 m² coverage depending on your model and outside signal.
Our vehicle signal boosters work for cars, sedans, RVs, and even boats.
Enterprise Bell signal boosters cover up to 10,000+ m² buildings, although it takes a dedicated team of installers and planners to get the absolute best service.
Why be a servant to the cell tower? Bring the cell tower inside your home! Below are our top recommendations.
Bell Cell Phone Signal Booster For Home
Our Pick: weBoost Home Room (650144)
Boosts Voice, Text Messages, Internet 3G & 4G LTE Data
For Whole Home Coverage
Up to +65 dB Gain
Our Review:
The weBoost Home Room has been the most recommended home booster for good reason. It's a dependable performer that covers most homes for better service.
The average home size in North America is around 500 m². Under absolute best conditions, the Connect 4G covers up to 5,000 m² with great outside signal and an open-spaced layout home.
Real world results and customer reviews put it around 250 to 275 m², a little less for rural areas.
Great option for most homes, small offices, farm houses, and buildings under 500 m² wide. If you're getting some spotty reception, we'd recommend to start with this first since this tends to be the Goldilocks or "just right" model.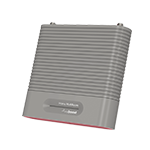 Upgrade: weBoost Home Complete (650145)
Boosts Voice, Text Messages, Internet 3G & 4G LTE Data
For Large Building Coverage
Up to +70 dB Gain
Our review:
The weBoost Home Complete is absolutely the most powerful consumer line booster you can get. With an additional +5 dB over the weBoost Home Room, it's roughly a shade over 3x more powerful.
Best case scenarios can expect coverage up to 750 m². More likely results can at least expect 400-500 m² even with below average outside signal. Again, fringe zones can expect a little less.
If you have extremely poor signal (remote area) or need wide coverage for a building 500 m² and over like a warehouse, the weBoost Home Complete is your new best friend.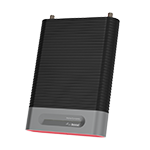 Budget: weBoost Home Room (652120)
Boosts Voice, Text Messages, 3G & 4G LTE Data
For 1 Room Coverage
Up to +60 dB Gain
Our review:
The weBoost Home Room is a nice cheap option if you're on a budget and only need spot coverage.
Depending on the outside signal, you may get 1-2 room coverage under best conditions. But you're not here because of best conditions, so it's more realistic to say desktop to small room coverage (about 25 to 50 m²).
Most customers have told us they're much closer to the inside antenna than anticipated for better signal. Great option for single office, home office (SOHO) and small areas like cabins and apartments. Good starter kit if you have decent outside signal but doesn't cover the whole home and not a strong performer in rural areas with poor signal.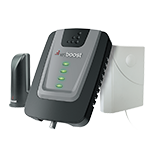 Bell Cell Phone Signal Booster For Car
Our Pick: weBoost Drive X (655021)
Boosts Voice, Text Message, 3G & 4G LTE Data
For multiple cell devices
Up to +50 dB Gain
Our review:
The weBoost Drive X is the most popular and highly recommended car signal booster in North America.
A slim outside antenna picks up signal. An indiscreet inside antenna (usually Velcroed to the driver seat) broadcasts signal inside. You have to be about an arm's length to get the boosted signal, so it's best for your typical sedan, truck, or SUV.
Majority of customers in the city say they're getting at least 2 to 3 more bars. For off-the-grid areas, a few did say they have to be closer to the inside antenna than anticipated to get more bars and amplified signal. Boosts signal up to 4 devices.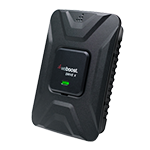 Upgrade: weBoost Drive Reach (650154)
Boosts Voice, Text Message, 3G & 4G LTE Data
For multiple cell devices
Up to +50 dB Gain
Pro Model: 60% More reach from and to cell tower
Our review:
For drivers in extremely rural or poor signal areas, the Drive Reach is the first option to look at. Boosts signal up to 4 devices.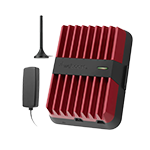 Budget: weBoost Drive Sleek (470135F)
Boosts Voice, Text Messages, 3G & 4G LTE Data
For a single smartphone
Up to +23 dB Gain
Our review:
The weBoost Drive Sleek is about price and performance for the single user.
It uses a magnetic vent mount and when paired with a bluetooth headset, it really shines for regular talk and text and hands-free navigation.
Smartphone has to be in the cradle to get maximum signal boost. New design allows for wider smartphones and small tablets.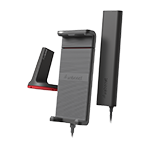 Bell Cell Phone Signal Booster For Commercial Buildings
Boosts Voice, Text Messages, 3G & 4G LTE Data
For Commercial Building
There are many cellular solutions for buildings with a range from 2,500 to 10,000 m². This model happens to be the sweet spot with best coverage up to 3500 m². Many of our professional installers and their enterprise customers have been happy with this one.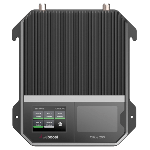 FAQ
Will a Bell Signal Booster also improve my Bell hotspot device?
Absolutely.
Bell mobile hotspot routers use 3G & 4G LTE signals, and that's what signal boosters do: enhance 3G & 4G LTE signal!
From the Novatel MIFI 7000 to the Huawei Rocket Stick router, it'll get better signal and speeds, especially if the Bell 4G router has an external antenna port that can directly connect to the Bell signal booster.
Will a Bell Signal Booster work with my Bell phone?
Yes, yes, and yes.
Whether it's an iPhone, Galaxy, Pixel, or any phone, if it's working on the Bell network, then a signal booster will also improve reception to your phone.
What if I switch carriers in the future?
Our Bell signal boosters from Wilson Electronics (weBoost & WilsonPro) are multi-carrier systems. This means they are also compatible with Rogers, Telus, Freedom, Fido, and other major and local carriers.
They are future-proof!
What about Bell 5G service?
Yeah... about that.
The 5G standard has not been officially set by the 3GPP. Therefore carriers like Rogers, Bell and Telus are pre-building out their 5G services by upgrading their current 4G LTE. They are doing extensive testing, but nothing definitive yet, and are rolling out higher-grade 4G LTE and marketing it as 5G to tide themselves over until the technology is ready.
To answer your question, no, it's not the real 5G. It's pre-5G, fake 5G– it's literally 4G LTE on steroids.
The real 5G should launch by the end of 2020.
Will 5G make my Bell signal booster obsolete?
Nope.
4G LTE is still being built out across North America. If fact, 4G LTE is the backbone of Canada's wireless service. It's not going anywhere anytime soon, AND it's getting faster.
4G LTE is expected to peak in 2030-2035. So...come back in a decade and ask the same question and we might hava a different answer by then.
How May We Help You?
We seriously hate dropped calls and poor coverage, so it's our goal in life to rid the world of spotty signal, one happy customer at a time:
Free consultation (ask us anything) with our US-based customer support (sales@wilsonamplifiers.a) or call us at 1-800-373-2927.
Free shipping to Ontario & Quebec for orders over $49.99.
Better signal or your money back within 30 days.
We want everyone to be satisfied, so we provide lifetime technical support and a 2-year warranty for all products.
Ask us anything and we'll be glad to help.
Signal Expert
THE WILSON AMPLIFIERS ADVANTAGE
FREE SHIPPING to Ontario & Quebec*
30-DAY
Money Back Guarantee
LIFETIME
Technical Support