50 Ohm vs 75 Ohm: Which is Best For You?
How to Find Your Closest Cell Tower
What's in an Ohm?
When it comes to 50 vs 75 Ohm, it's all about two things: footprint & power.
Especially when it comes to 50 Ohm vs 75 Ohm coax cables. In short, cables are measured by impedance, how much resistance there is to the flow of electrical energy. A 50 Ohm cable provides much better results than a 75 Ohm cable for boosting cellular signal.
We fix poor cell phone signal! Find the right signal booster for you:

For Home

For Vehicle

For Business

For Commercial
Signal loss on 50 vs. 75 Ohm cable depends heavily on what radio frequency you're trying to transmit. At very high frequencies, certain 75 Ohm cables work better than 50 Ohm.
However, for boosting cellular signal, the common 50 Ohm solutions (Wilson400, LMR®600, etc.) always provide better loss than a 75 Ohm cable such as an RG-6.
Here is a guide to smaller 50 Ohm cables and their frequencies, which frequently have a higher degree of signal loss than the common RG-6.
Most home cellular boosters come in 75 Ohm systems with 75 Ohm cables such as RG-6 with F-connectors.
Most commercial cell signal boosters come in 50 Ohm systems with 50 Ohm cables such as LMR®400 with N-connectors.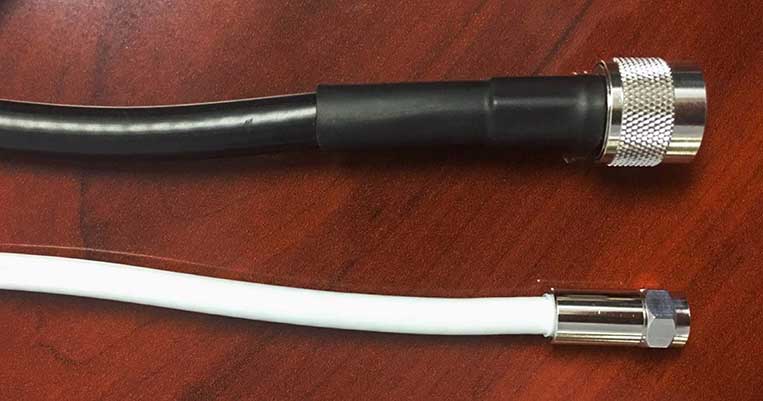 H2: 75 Ohm: The Friend You Already Know
Why consider 75 Ohm?
That's because 75 Ohm cables are the standard coax cable you find everywhere inside your home and offices.
From the back of the tv to cable & satellite tv boxes and internet routers, they're commonly used and are often pre-wired in many homes and businesses.
75 Ohm is primary used for video and audio, hence why its rapid adoption and use as standard in the country.
For home applications, they do a perfectly fine job of transmitting signal up to 50 feet of cable with home or small building installation topping out at 5,000 sq ft.
The weBoost Home MultiRoom is our best-selling 75 Ohm cell phone amplifier system: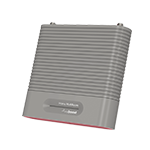 5G ready booster. Amplifies 4G LTE and 3G signals.
Covers up to 5,000 sq ft (464 sq m)
Up to +65 dB gain
Works with ALL cellular devices across ALL carriers (Rogers, Bell, Telus, and more!)
Trusted by hundreds of thousands of people across rural & urban Canada.
The weBoost Home MultiRoom is extremely dependable and perfect for most homes. Designed to boost 4G LTE signal for multiple cellular devices across all carriers. It's even 5G ready!
The booster features a maximum uplink output of 21 dBm, allowing the booster to reach far distanced towers for stronger in-building signal, making it a good option for people in the city or the countryside. And with up to +65 dB of gain, it can cover areas up to 5,000 sq ft under best conditions. Coverage is determined by the strength of your outside signal, people who live in areas with fair to poor outside signal will most likely get between 2,000 – 3,000 sq ft / 186 - 279 sq m, a little less for rural areas.
Ideal for mid-size homes with strong outside signal, or small homes with below average outside signal.
50 Ohm: The Big Gun
For commercial installations running cable 100+ feet / 30+ meters with building coverage at 7,500 to 100,000+ sq ft / 696 - 9,290+ sq m, then high-quality 50 Ohm cable is the clear winner.
50 Ohm cable is primary used for data, and there's this thing called "the internet" that uses a lot of it. It's a much better cable for cell phone booster systems since 4G LTE data (and soon to be 5G) is what we're looking to get a lot of.
But what's the trade-off?
Aesthetics.
50 Ohm cables tend to be thicker and have larger connectors. And since 50 Ohm cables aren't as ubiquitous as 75 Ohm cables, running cable is potentially more difficult if your building is not prewired for it.
There are, also, certain varieties of 50 Ohm cable which have greater signal loss than a 75-Ohm RG-6 cable, so make sure you're getting LMR®400 spec cable or above when looking for a cellular solution.
The weBoost for Business Office 100 is our best-selling 50 Ohm cellular amplifier: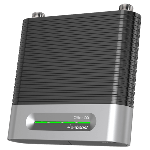 Boosts 4G, LTE, and 3G signals across ALL carriers. 5G-Compatible.
Up to 25,000 sq ft (2322 sq m) of coverage
Up to +72 dB gain, with up to 24 dBm uplink & 12 dBm downlink
Works with all cellular devices across all carriers
Great for rural and urban areas.
The 50 Ohm weBoost for Business Office 100 is similar in design as the 75 Ohm weBoost Home MultiRoom, but much more powerful. With up to +72 dB gain (maximum allowed by Industry Canada), 24 dBm uplink, and 12 dBm downlink, the Office 100 can communicate with farther cell towers and provide a large coverage area. As a pro-grade unit, it's designed to enhance cell coverage inside small businesses, but don't let the name fool you. The Office 100 is also perfect for large homes that need something more robust.
With the right antennas, a strong outside signal, and zero indoor interferences, the amplifier is powerful enough to provide superior reception inside commercial buildings and homes up to 25,000 sq ft / 2,322 sq m. However, areas with poor outside signal combined with other factors, such as internal building material and building layout, could receive much less coverage. For example, customers with decent outside signal (3-4 bars) may get up to 15,000 sq ft / 1,393 sq m, while those located in areas with poor outside signal (1-2 bars) may receive up to 7,500 sq ft / 696 sq m.
Seeing as most small business buildings and large homes in Canada are below 25,000 sq ft, the Office 100 is a great and relatively inexpensive unit for small commercial and large residential buildings anywhere. Plus, it's also available in a 75 Ohm variant if that works better for your office or home.
So what's right for me: 50 or 75 Ohm?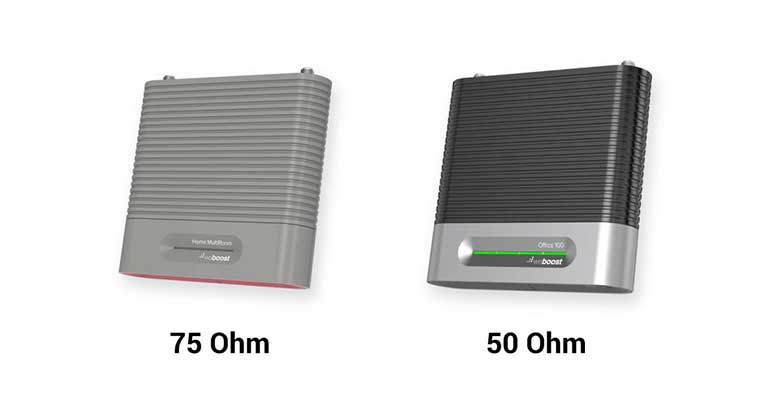 Choose 75 Ohm if:
Cable run is under 50 ft / 15 m.
Home coverage is under 5,000 sq ft / 465 sq m.
House is pre-wired with F-connectors.
Best solution for most homes & small buildings.
Choose 50 Ohm if:
Cable run is over 100 ft / 30 m.
Building coverage ranges from 7,500 to 100,000 sq ft / 696 to 9,290 sq m.
Want the absolute best in terms of power.
Best solution for buildings and commercial spaces.
For those who understand dB gain, 75 Ohm can lose as much as -1.1 dB compared to 50 Ohm per 100 feet / 30 meters of cable. In essence at 100 ft / 30 m of cable, 50 Ohm is roughly 1.3x more powerful than the 75 Ohm in terms of maintaining signal coming from the same source.
FAQs
1. What kind of cable is 50 Ohm, and what kind is 75 Ohm?
We've written a guide for that, because coaxial cable is a topic into itself, but in general, anything LMR® is 50 Ohm, and anything RG is 75 Ohm.
2. What kind of loss can I expect by running long cable?
A great question, and one we've prepared this image for: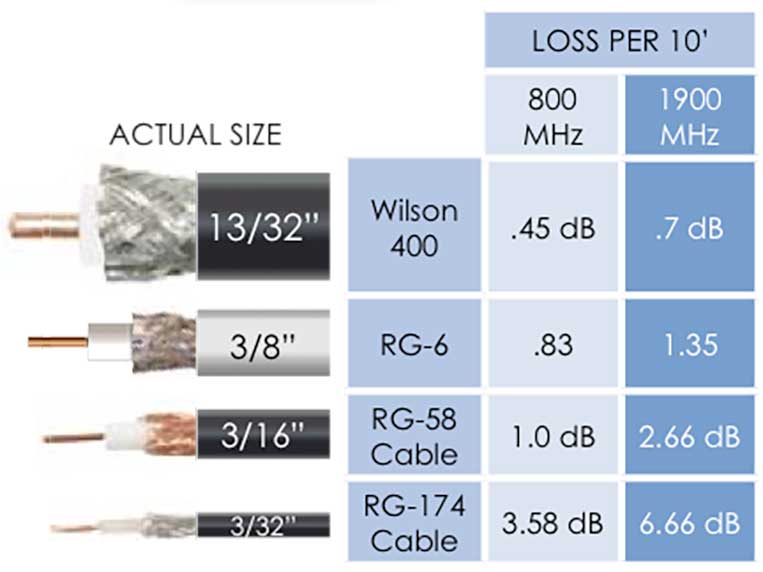 As you can see, the thicker 50 Ohm cable has much less loss per 10 feet than any of the smaller 75 Ohm bunch, which is part of why the WilsonPro brand of commercial signal boosters boasts its superior performance.
3. Can I mix and match 50 and 75 Ohm booster systems and accessories?
While possible, it's not recommended.
Signal booster systems, as well as accessories, such as cables, adapters, lightning surge protectors, splitters, and antennas, have connectors that accommodate respective cable connectors. To successfully connect a 50 Ohm cable to a 75 Ohm signal booster or accessory, you'll need special connectors and adapters, which would lead to additional signal loss, preventing you from receiving the best signal boost possible.
For optimal performance, it's best to use the same impedance rating across the board.
Hope this helps. If you have any questions, let us know in the comments below.
How May We Help You?
Wilson Amplifiers is the leading provider of cellular signal boosters. Cell phone boosters amplify 3G & 4G LTE for any phone with any carrier for home, office, or vehicle.
We seriously hate dropped calls and poor coverage, so it's our goal in life to stomp on spotty signal like the little roaches they are:
Free consultation (ask us anything) with our US-based customer support (sales@wilsonamplifiers.com) or call us or at 1-800-373-2927.
Free shipping to Ontario & Quebec for orders over $49.99.
Better signal or industry-leading 30 money-back guaranteed. No questions asked.
We want everyone to be satisfied, so we provide lifetime technical support and a 2-year warranty for all products.
Ask us anything and we'll be glad to help.
LMR® is registered trademark of Times Microsystems.
THE WILSON AMPLIFIERS ADVANTAGE
FREE SHIPPING to Ontario & Quebec*
30-DAY
Money Back Guarantee
LIFETIME
Technical Support