on 23rd Jan 2019 Alex B. and James N. Version française
What's in an Ohm?
When it comes to 50 vs 75 Ohm, it's all about two things: footprint & power.
Especially when it comes to 50 Ohm vs 75 Ohm coax cables. In short, cables are measured by impedance, how much resistance there is to the flow of electrical energy. The smaller the Ohm, the better the performance. So a 50 Ohm cable provides much better results than a 75 Ohm cable.
Most home cell phone signal boosters come in 75 Ohm systems with 75 Ohm cables such as RG-6 with F-connectors.
Most commercial cell phone signal boosters come in 50 Ohm systems with 50 Ohm cables such as LMR400 with N-connectors.
As you can see (pictured above), there's a sizable physical difference between the two in terms of wire and connector width. Here we'll explain the key differences.
75 Ohm: The Friend You Already Know
Why consider 75 Ohm?
That's because 75 Ohm cables are the standard coax cable you find everywhere inside your home and offices.
From the back of the tv to cable & satellite tv boxes and internet routers, they're commonly used and are often pre-wired in many homes and businesses.
75 Ohm is primary used for video and audio, hence why its rapid adoption and use as standard in the country.
For home applications, they do a perfectly fine job of transmitting signal up to 50 feet of cable with home or small building installation topping out at 5,000 sq ft.
The weBoost Connect 4G is our best-selling 75 Ohm cell phone amplifier system.
50 Ohm: The Big Gun
For commercial installations running cable 100+ feet with building coverage at 7,500 to 100,000+ sq ft, then 50 Ohm cable is the clear winner.
50 Ohm cable is primary used for data, and there's this thing called "the internet" that uses a lot of it. It's a much better cable for cell phone booster systems since 4G LTE data (and soon to be 5G) is what we're looking to get a lot of.
But what's the trade-off?
Aesthetics.
50 Ohm cables tend to be the much thicker and have larger connectors. And since 50 Ohm cables aren't as ubiquitous as 75 Ohm cables, running cable is potentially more difficult if your building is not prewired for it.
The WilsonPro 70 is our best-selling 50 Ohm cell phone signal booster system.
Mixing & Matching 50 & 75 Ohm Systems and Accessories.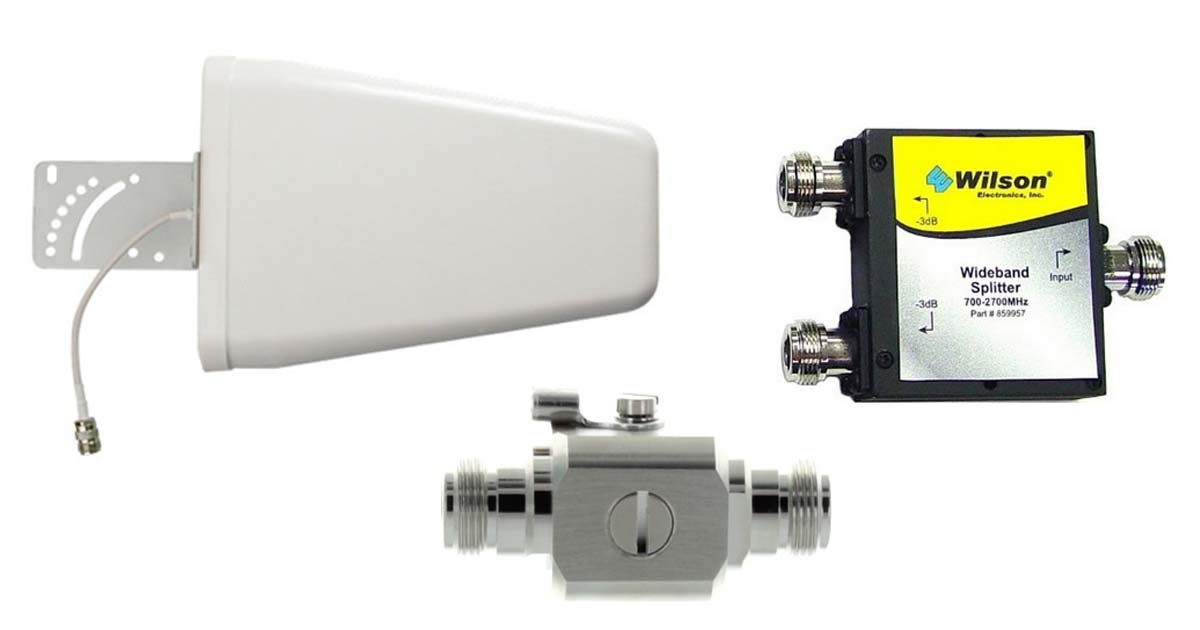 There are always circumstances when you need to mix & match 50 and 75 Ohm systems and accessories such as a cable, antenna, splitter, lightning surge protector, and more.
While it's possible with the use of special cable connectors and adapters, however, it's not recommended. Because mixing and matching 50 ohm and 75 ohm cables and systems would lead to further signal loss, so it's best to stay consistent with the same type of relevant 50 or 75 ohm system and accessories.
So what's right for me: 50 or 75 Ohm?
Choose 75 Ohm if:
Cable run is under 50 ft.
Home coverage is under 5,000 sq ft.
House is pre-wired with F-connectors.
Best solution for most homes & small buildings.
Choose 50 Ohm if:
Cable run is over 100 ft.
Building coverage ranges from 7,500 to 100,000 sq ft.
Want the absolute best in terms of power.
Best solution for buildings and commercial spaces.
For those who understand dB gain, 75 Ohm can lose as much as -1.1 dB compared to 50 Ohm per 100 feet of cable. In essence at 100 ft of cable, 50 Ohm is roughly 1.3x more powerful than the 75 Ohm in terms of maintaining signal coming from the same source.
---
FAQ
What kind of cable is 50 Ohm, and what kind is 75 Ohm?
In general, anything LMR is 50 Ohm, and anything RG is 75 Ohm.
What kind of loss can I expect by running long cable?
A great question, and one we've prepared this image for:
As you can see, the thicker 50 Ohm cable has much less loss per 10 feet than any of the smaller 75 Ohm bunch, which is part of why the WilsonPro brand of commercial signal boosters boasts its superior performance.
Hope this helps. If you have any questions, let us know in the comments below.
---
Want to learn how to boost your cellular signal? Check out our guide on cell phone boosters:
---
Need help? Email us today ( sales@wilsonamplifiers.ca) or give us a call at 1-800-568-2723. A cell phone signal expert will gladly assist you in getting better signal instantly.