weBoost Office 200 vs WilsonPro 1300 vs WilsonPro 4300: What's the Difference?
Reviewing the Top 3 Business Signal Boosters: Which one is Best for Your Business?
Many businesses are plagued with poor cellular signal indoors. The main culprits are usually building materials and cell tower distance. For improved voice and data throughout, the weBoost Office 200, WilsonPro 1300, and WilsonPro 4300 signal boosters can help. They're designed for office buildings, warehouses, and other commercial spaces.
With various options, it can be difficult to choose the best unit for your needs. Here is a comprehensive review of the top three commercial signal boosters. Discover their differences and similarities to identify which unit is best for you.
We fix poor cell phone signal! Find the right signal booster for you:

For Home

For Vehicle

For Business

For Commercial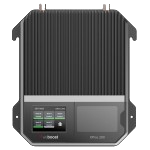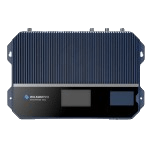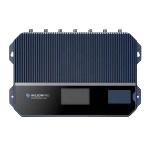 Office 200 vs WilsonPro 1300 vs WilsonPro 4300: Differences Review
Design Differences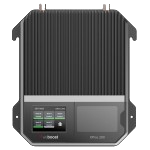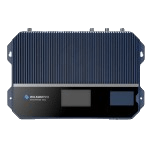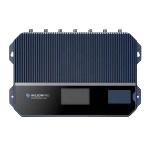 The three commercial signal booster future a metal housing with grooves that help displace heat. Both WilsonPro units are the same color and size. The main difference between the two designs is the number of antenna ports, which we will talk more about later. They are available in wall-mount or rack-mount versions. The Office 200, on the other hand, is black, smaller, and only available for wall-mounting. Its size allows it to occupy less wall space.
| | | |
| --- | --- | --- |
| Signal Booster | Dimensions | Weight |
| weBoost Office 200 (Wall-Mount) | 27.31cm L x 5.77cm W x 36.2cm H | 3.49 kgs |
| WilsonPro 1300 (Wall-Mount) | 18.26cm L x 6.35cm W x 30.48cm H | 7.48 kgs |
| WilsonPro 1300 (Rack-Mount) | 44.45cm L x 30.48cm W x 9.53cm H | 4.38 kgs |
| WilsonPro 4300 (Wall-Mount) | 18.26cm L x 6.35cm W x 30.48cm H | 7.68 kgs |
| WilsonPro 4300 (Rack-Mount) | 44.45cm L x 30.48cm W x 9.53cm H | 4.47 kgs |
Installation Options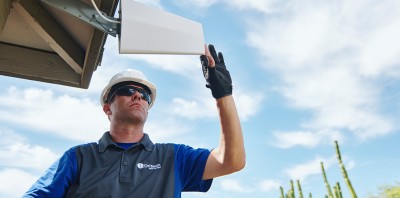 The standard weBoost for Business Office 200 requires a DIY installation. You'll need to mount the antennas, run cables, and maybe drill holes.
For a professional turnkey installation, consider the WilsonPro 1300 and WilsonPro 4300. They includes a free consultation, site survey, system design, presentation, and deployment. Based on your unique needs, our signal experts will be able to put together a custom 1300 or 4300 system.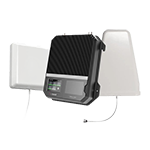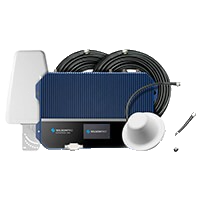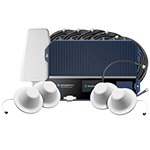 To get the coverage you desire, additional cables, antennas, and other accessories are typically needed. With the Office 200, all the necessary extras are sold separately. A turnkey solution takes out the guesswork. You won't need to worry about figuring out the length of cable, which accessories, or the number of antennas you'd need. Our install experts will take care of everything.
Gain Differences
Gain represents the maximum boost the amplifier can apply to your existing outside signal. It's measured in decibels or dB for short. If you have weak outside signal, higher gain is recommended.
The Office 200 features up to 72 dB gain. That's the highest gain allowed by the Industry Canada for multi-carrier boosters. Both WilsonPro boosters offer up to 70 dB gain. While slightly less, they definitely make up for it in other areas.
Output Power Differences
There are two types of output powers:
Uplink Output – The amount of power used to reach cell towers.
Downlink Output – The amount of power used to broadcast enhanced 4G, LTE, and 5G signals inside the building.
Higher uplink allows greater reach to distant cellular towers. For businesses with weak outside signal, we recommend a booster with high uplink power. The unit will capture the strongest signal to deliver superior in-building cell service. Higher downlink allows for greater coverage. The rebroadcasted signal will be able to travel further and reach more devices in your building.
Maximum output powers vary across the supported frequency bands:
Frequency Band
Office 200 Uplink (dBm)
WilsonPro 1300 Uplink (dBm)
WilsonPro 4300 Uplink (dBm)
700 MHz
(Band 12, 17)
24
23.9
22.9
700 MHz
(Band 13)
24
23.9
23.1
850 MHz
(Band 5)
25
25.1
24.6
1700/2100 MHz
(Band 4)
25
23.7
22.8
1900 MHz
(Band 2, 25)
25
26.7
25.5
Frequency Band
Office 200 Downlink (dBm)
WilsonPro 1300 Downlink (dBm)
WilsonPro 4300 Downlink (dBm)
700 MHz
(Band 12, 17)
15.1
16.7
16.9
700 MHz
(Band 13)
15.1
16.8
16.7
850 MHz
(Band 5)
15.3
16.9
16.8
1700 MHz
(Band 4)
15.2
16.8
16.6
1900 MHz
(Band 2, 25)
15.2
16.8
16.6
Looking at uplink, the Office 200 and WilsonPro 1300 are relatively close in power. They have slightly more reach to cell towers than the WilsonPro 4300. When it comes to downlink, both WilsonPro units feature more power than the Office 200. They're able to cover more areas with reliable voice and data.
Built in Amplifiers
The WilsonPro 4300 separates itself from other commercial signal boosters by having four amplifiers in one. That's right, four! It's very powerful. Most signal boosters, the Office 200 and WilsonPro 1300 included, are only equipped with one amp. More than one amplifier can be overkill for many businesses.
Coverage Differences
Due to its four amplifiers, powerful downlink, and high gain, the WilsonPro 4300 delivers the most coverage. It's capable of covering up to 9,290 m2 under optimal conditions, which tends to be more than enough for wall-to-wall coverage. It's perfect for midsize businesses with poor outside cell signal and large businesses with decent to strong outside signal.
The Office 200 and WilsonPro 1300 are both ideal for small to medium businesses. Under perfect conditions, the Office 200 offers up to 3,251 m2, and the WilsonPro 1300 up to 3,716 m2.
The following chart show an estimate of how much coverage you can expect depending on your signal strength per unit:
Outdoor Signal Strength
Office 200
WilsonPro 1300
WilsonPro 4300
5 Bars
(-40 to –70 dB)
Up to 3,251 m2
Up to 3,716 m2
Up to 9,290 m2
4-5 Bars
(-70 to –80 dB)
Up to 2,601 m2
Up to 2,973 m2
Up to 7,432 m2
3-4 Bars
(-85 to –95 dB)
Up to 1,951 m2
Up to 2,230 m2
Up to 5,574 m2
2-3 Bars
(-95 to –105 dB)
Up to 1,301 m2
Up to 1,486 m2
Up to 3,716 m2
1-2 Bars
(-105 to –115 dB)
Up to 650 m2
Up to 743 m2
Up to 1,858 m2
No Signal
(-120 dB)
No Coverage
No Coverage
No Coverage
To maximize coverage, multiple indoor antennas are needed.
Multi-Tower Targeting (MTT)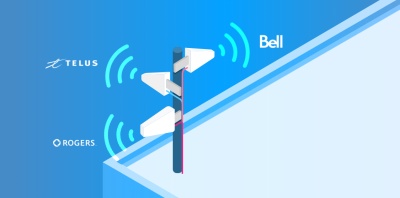 If you look at the outdoor antenna connectors on the amplifiers, you'll notice that both WilsonPro units have three. The Office 200 only has one. The three outdoor antenna port configurations allow for multi-tower targeting.
Most signal booster kits we sell include Yagi antennas. These antennas are directional, meaning they can only send and receive cell signals from one direction. Thus, they must point at your closest tower, resulting in improved cell signal for one carrier. A multi-carrier solution usually requires multiple Yagi antennas pointed in different directions. WilsonPro's patented MTT makes it easy to optimize performance for multiple carriers. Each port is designed to amplify specific frequencies, ensuring the strongest boost for each carrier.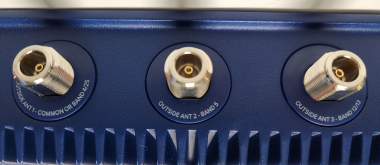 Using a diplexer, multiple outdoor antennas can be connected to the Office 200. This setup, however, could affect indoor coverage and signal strength.
If you want the power of the WilsonPro units, but only want one outdoor antenna, the unit can be switched to common mode.
Internal Antenna Ports


The Office 200 and WilsonPro 1300 are both equipped with one indoor antenna port. Though, they can support up to four to maximize coverage. The WilsonPro 4300 has four internal antenna ports and can support a whopping 16.
Impedance (Ohms) 
Amplifiers have an impedance, measured in Ohms, of 50 or 75. 50 Ohm units are most common for commercial applications. They do a better job at handling long cable runs. 75 Ohm units are most common for residential applications.
The Office 200 is available in both 50 and 75 Ohms. The installed version is only available in 75 Ohms. Both WilsonPro units are 50 Ohm.
Remote Management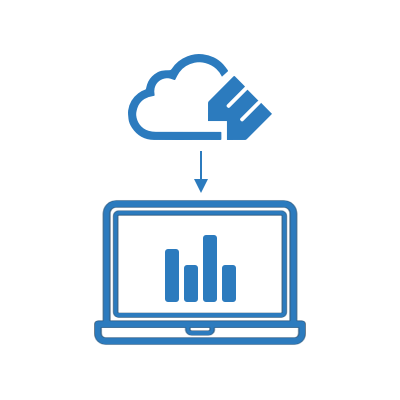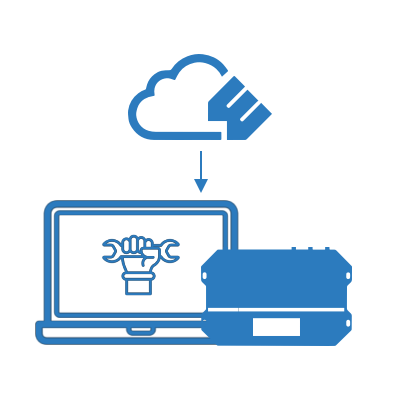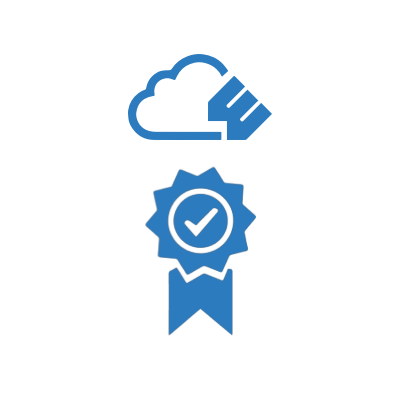 Using any device that can access the web, integrators can remotely manage the WilsonPro 1300 and 4300 with the WilsonPro Cloud. They'll be notified the second system changes are detected. Whether it be oscillation, signal strength, power status, or something else, integrators will take the steps to fix any issue. WilsonPro Cloud provides a smoother connectivity experience for busy businesses. Unfortunately, the Office 200 does not support WilsonPro Cloud.
Power Supply Differences
The three units are equipped with a 110-240V AC power supply. The one included with the Office 200 has a transformer, while the WilsonPro one doesn't. Since the WilsonPro 1300 and 4300 are bigger, more wattage is needed to power them on. They need 30 W, and the Office 200 only needs 20 W.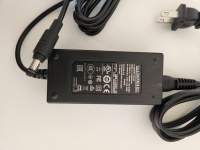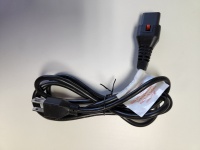 The Office 200 has a barrel power supply port. Its power supply easily connects and disconnects. The WilsonPro amplifiers both feature a three-prong power supply port. The power supply easily attaches and locks in. It's impossible to accidentally disconnect the unit, pausing amplification.


Price Differences
Out of the three units, the standard Office 200 is the most affordable. It includes everything you need to install it yourself. The WilsonPro boosters are pricier. They include a site survey, system design, and are customized to your specific needs. Call us at 1-800-738-1828 for the best price.
What are the Similarities Between the Office 200, WilsonPro 1300, and WilsonPro 4300?
The three units share some common features. They included:
5G Ready - You'll experience enhanced 4G, LTE, and 5G (across select 5G frequencies).
Supported Frequencies – They boost cellular frequencies 700 MHz (Band 12/17/13), 850 MHz (Band 5), 1700/2100 MHz (Band 4), and 1900 MHz (Band 2/25).
Cellular Providers – As multi-carrier signal boosters, they work with Rogers, Bell, Telus, SaskTel, and more.
XDR Technology – Built-in feature that automatically adjusts the amplifier's gain when too much signal is detected. This ensures the system doesn't overload and shut down.
LCD Touchscreen – Allows for manual monitoring, management, and troubleshooting of the system. With WilsonPro Cloud, you don't have to worry about parodically checking performance. An integrator will keep tabs on your unit and keep it running smoothly.
Certifications – All units are IC Certified. IC IDs are 4726A-460047 for the Office 200, 4726A-460049 for the WilsonPro 1300, and 4726A-460052 for the WilsonPro 4300.
Choosing Between the Office 200, WilsonPro 1300, and WilsonPro 4300
At first glance, it can be difficult to figure out which commercial signal booster is best for your building. Identifying their differences, your coverage goals, and budget makes the choice so much clearer.
For wall-to-wall coverage in mid to large commercial spaces, the WilsonPro 4300 is a no-brainer.
The Office 200 and WilsonPro 1300 are pretty close in coverage and power. With the 1300, we'll design a customized system that'll address all your needs. It'll target multiple towers to keep all devices no matter their provider connected. Managing and monitoring performance can be done via the WilsonPro Cloud by an integrator.
If you just want the most affordable unit and don't mind installing it yourself, go with the standard Office 200.
We hope this review helps you find the right signal booster for your business. If you need help deciding, don't hesitate to call (1-800-738-1828) or email us (sales@wilsonamplifiers.ca). Our signal experts are happy to help.
THE WILSON AMPLIFIERS ADVANTAGE
FREE SHIPPING to Ontario & Quebec*
30-DAY
Money Back Guarantee
LIFETIME
Technical Support